I have so much to do by Christmas, and it is all secret sewing! Secret sewing is very hard to do with four kids in the house.
I have the four totoro hoodies which I have barely started on,
I have four pairs of pajamas that I am perhaps1/3 of the way through.
I have two more magic deck cozies to make (I have made 2)
And a couple of things I won't mention here lest they be read by the recipient.
I also have several friends expecting babies, one before me and 3 after. I need to decide what to make and make it asap, otherwise I'll have a baby and no time. Then there is the fact that I have barely made anything for my own baby. This doesn't have a Christmas deadline but it is looming there... perhaps after Christmas I will put together some outfits and hats for baby.
Yesterday I was flipping through my iPad Calendar and my due date was there! It's only 2 pages away.
I forgot to add that I have one more by-Christmas (or rather, by The Feast of Stephen) gift to make- a knitted mushroom ornament as a gift for our priest on his namesday. I have done for two years and cannot miss this year. I use the same pattern but change the size and color. It's not a hard knit at all, just need to choose yarn and get it going!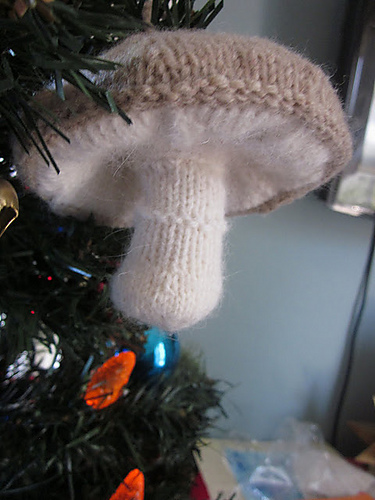 The first ornament (from 2011)
The second ornament (from 2012)